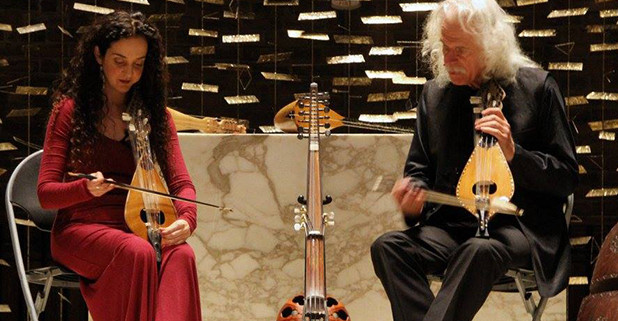 When:
7 November 2017 @ 19 h 00
2017-11-07T19:00:00+01:00
2017-11-07T19:15:00+01:00
Where:
ICAM - L'Olivier
Rue de Fribourg 5
1201 Genève
Switzerland

Contact:
ICAM-L'OLIVIER / ADEM
022 731 84 40
Ross Daly : lyra, nak tarhu, rubab, baglama
Kelly Thoma : lyras
Le duo de Ross Daly et Kelly Thoma est unique en son genre. Leur travail est centré sur un instrument peu connu, la lyra, une petite vièle à archet dont on rencontre des variantes dans plusieurs pays du Proche Orient et des Balkans, et tout particulièrement en Crète, où vivent Ross et Kelly. La musique jouée par ces deux artistes ne procède pas d'une culture particulière, mais tire son inspiration de plusieurs traditions appartenant au monde des musiques modales. Ces éléments sont intégrés à un nouveau genre que Ross Daly appelle « musique modale contemporaine ». Ce genre est cependant très éloigné de ce qu'on appelle généralement la musique contemporaine. Ses sonorités évoquent à la fois quelque chose de très ancien et de très futuriste. Inspirés par la conviction que ces archétypes musicaux sont d'une nature qui dépasse l'expression individuelle, Ross Daly et Kelly Thoma ont étudié en profondeur ces traditions musicales auprès de grands maîtres. La connaissance qu'ils en ont acquise a été intégrée à un travail de composition et d'improvisation qui reflète leur perception de la nature sacrée de l'art musical.
Ross Daly and Kelly Thoma are a duet of a unique nature. Central to their work is a rather obscure and little known instrument, the Lyra, a small upright knee-fiddle used in a number of middle eastern and Balkan traditions as well as in the music of the island of Crete where Ross Daly and Kelly Thoma reside. The music played by these two artists however does not actually belong to any single tradition, rather it draws its inspiration from a wide variety of ancient and timeless traditions deriving from the broader world of modal music. These elements are incorporated into a new genre which Ross Daly refers to as Contemporary Modal Music. This genre however has very little to do with what we have usually come to associate with contemporary music, in fact its sound seems to step outside of time oscillating between something that might have been played several thousand years ago or sometime in the distant future. Ross Daly and Kelly Thoma, inspired by a profound belief in the transpersonal and transcendental nature of the ancient archetypal modal traditions of the east, have studied these traditions extensively with some of the world's greatest master musicians. The knowledge acquired from these sources is then integrated into compositions of their own which reflect their perception of the sacred nature of the art of music.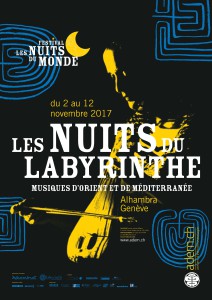 | | |
| --- | --- |
| | |
http://www.icamge.ch/wp-content/uploads/2017/09/13002404_10154182251985984_4223412005093343593_o-2-e1505230768117.jpg
336
618
ICAM
http://www.icamge.ch/wp-content/uploads/2014/07/olivier-icam-short-300x145.png
ICAM
2017-09-12 16:36:18
2017-12-30 15:30:53
Ross Daly & Kelly Thoma - Contemporary Modal Music